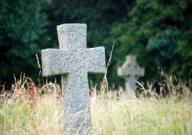 Image credit: sxc.hu
Friends and relatives of Gilberto Araujo were stunned when he walked in during his own funeral.
The strange series of events started when Gilberto's brother Jose had been asked to identify a body at the city morgue in Alagoinhas, northeast Brazil. Adamant that the body was indeed Gilberto, Jose made arrangements for his brother's wake at their mother's house. Part of the way through however the door opened and Gilberto himself strode in.
"Some people fainted and others were so scared they ran away when he arrived," said a family friend. "It was a big shock." It turned out that the body Jose had identified was actually that of Genivaldo Santos Gama, a man who looked very similar to Gilberto and had the same job.
A Brazilian family were stunned when their relative arrived at his own funeral following a mix-up identifying the dead body.

Source :
http://uk.news.yahoo.com/dead-brazilian-turns-own-funeral-101222753.html