Anything Mysteries / Paranormal (Cryptozoology, Myths and Legends / UFOs, Ghosts etc) A Scary, Funny, Amazing and Entertaining Blog
Thursday, April 23, 2015
Believe it or not, Pictures taken from a website
Source
Posted by

Paranormal
at 8:49:00 PM
No comments:
Links to this post

Monday, April 20, 2015
OMG! ATAKIHIN KA BA SA PUSO KUNG GANITONG TRAIN MASAKYAN MO?
OMG! KAYA MO BANG SUMAKAY SA GANITONG KLASENG TRAIN? PAPAANO KUNG BIGLA ITONG TUMIGIL AT BIGLA MAMATAY ANG ILAW NITO AT PAGBUKAS NG ILAW MAY ISANG BATANG NAKAPUTI NA BUBUNGAD SA HARAPAN MO? ABA NAKAKATAKOT NGA ITO! HALIKA'T PANOORIN NATIN ANG ISANG BAGONG BRAZILIAN PRANK NA ITO!Dont forget to VISIT and LIKE my PAGE:www.facebook.com/PHILFUNCOLFOR MORE FUN!!
Posted by Philippine FUNNY Collection on Monday, April 20, 2015
Posted by

Paranormal
at 10:24:00 AM
No comments:
Links to this post

Hidden away down an overgrown road, in a village not far from Bangkok, there lies a curious museum known to many as the 'Thailand Hell Horror Park'. Built adjacent to a local temple, the
Wang Saen Suk Hell Garden
– as it is correctly named – brings to life Buddhist teachings about the torments of the underworld, in a series of increasingly gruesome scenes.
The Wang Saen Suk Hell Garden is the largest hell garden in Thailand.
At the entrance of the monastery garden, a brightly colored sign reads "Welcome To Hell"
Further inside the garden, another sign reads:
If you meet the Devil in this life, don't postpone merit-making which will help you to defeat him in the next life.
At the start of the garden trial sits a giant "fat
Buddha
" statue.
Numerous cement-and-plaster statues depicting life in a Buddhist hell can be found throughout the garden. After a series of relatively peaceful, spiritual scenes, the visitor turns a corner to see a diorama depicting Buddhist hell. Two large figures named 'Nai Ngean' and 'Nang Thong' stand high above the tortured souls of the garden; their emaciated appearance, long necks and distended bellies seems to mark them as
Preta
, the 'hungry ghosts' of Thai folklore.
Around the feet of these figures are arranged 21 tortured souls, each with the head of a different animal. These animalistic characterisations reflect the nature of each soul's sin; plaques at the feet of each feature inscriptions such as:
Ones who make a corruption are punished in the hell, they are named as the spirits of the pigs.

Ones who sell the habit-performing drugs are punished in the hell, they are named as the spirits of the cows.

Other designations include the ungrateful becoming tigers, jealous people being named rabbits and a bird head given to those who steal cooked rice.
After this first area come illustrations of the specific punishments for a list of very particular crimes. These include depictions of human sinners being ripped apart by the dogs of Hell,
burnt alive in boiling
cauldrons,
disembowelled by birds,
and having their head replaced with that of an animal.
Donation boxes located next to each scene encourage penance through charity. They also detail the sins likely to incur the depicted torture; these range from a woman being crushed in a vice for committing aborticide, to a man having his head savagely knocked off for undermining Buddhism.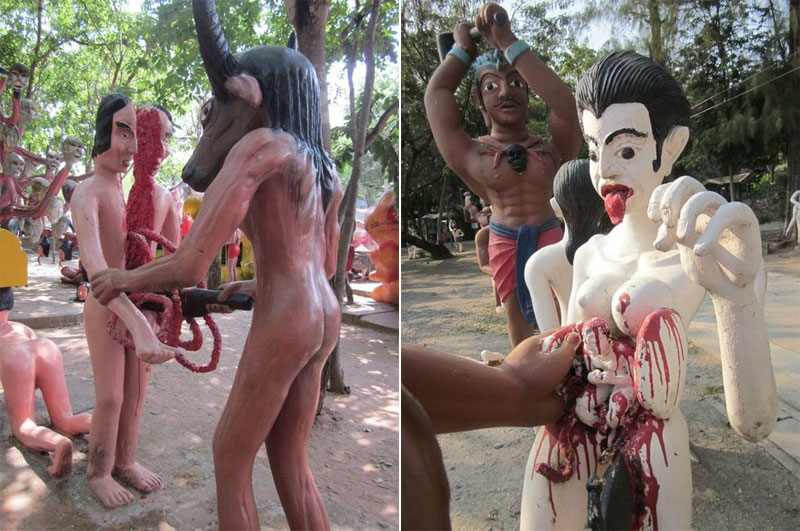 Source :
http://www.thebohemianblog.com/2013/06/wang-saen-suk-hell-garden-thailand.html
Posted by

Paranormal
at 8:34:00 AM
No comments:
Links to this post